Toy Story is where it all began for Pixar. Despite a range of short films, this was how we all were introduced to this animation powerhouse.
By: Russ Matthews at Reel Dialogue
An unlikely team of creatives exploded onto the cinematic scene with the beloved classic centred on a cowboy named Woody (Tom Hanks) and his best friend, Buzz Lightyear (Tim Allen). Who could have guessed that 27 years later, audiences would be casting their eyes on the origin story of the broad-jawed Space Ranger?
Lightyear is credited with being the movie that caused Andy to want a Buzz Lightyear (Chris Evans) action figure for his birthday. The space traveller was marooned on an uninhabited planet with his commander and extensive flight crew. As he tries to discover a way off the world and back to Earth, Buzz realises that the experimental flights he goes on cause a time rift.
These space expeditions leave him ageing for only four minutes while the rest of the community's ageing process is accelerated. As he literally races against time to find an answer, he is eventually joined by a ragtag team of rookies and an insightful robotic cat named Sox (Peter Sohn).
But Is This Original?
One thing that could be said about Pixar over the years is that they have created some of the most innovative storylines in recent animated history. Originality was a differentiating factor in their legacy, marking many of their films to be labelled as some of the best-animated films in history.
While Lightyear is visually stunning, very little of the film can be credited with being innovative or original. Instead, director Angus MacLane (Finding Dory) manages to sample from multiple science fiction source material such as Interstellar, Star Wars and Alien. It is a technique that pays homage to classics throughout cinematic history and leans into this nostalgic year in theatres. Still, it does cause this story to feel like it has all been told.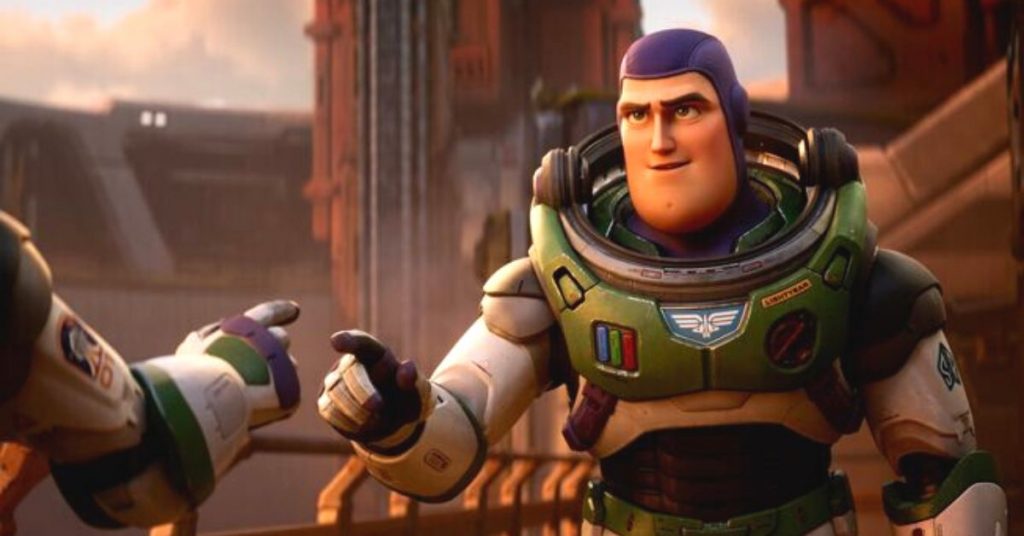 Unsurprisingly, Pixar chose to go with a trusted franchise to reintroduce themselves to cinemas in this COVID-influenced era. Yet, they do so with a film that does little to capitalise on what has made this studio great throughout the years. This all feels more like a marketing exercise rather than the reintroduction of this Disney-infused team. Even though it may appeal to a new generation of viewers – and cause their parents to reminisce about the days when they first saw Woody and Buzz on the big screen or rented the videos at Blockbuster.
The Same Sex Relationship Storyline
One challenge for this film will be the controversy that has plagued the promotional process in the months leading up to its release. The whispers of an on-screen same-sex kiss have been mentioned throughout social media. To not address this element of the film would be foolish, since it is more than a mere peck on the cheek.
The relationship between Commander Alisha Hawthorne (Uzo Aduba) and her wife does play an integral component throughout the storyline, especially within the first act. It is something for parents to consider when choosing to take their children along to see Buzz's origin story.
Will Moralising Appeal to Audiences?
To consider Lightyear as part of the canon of the Toy Story franchise seems a bit odd. Even though it is entertaining, has the Space Ranger as it's lead and takes animation to a new level, this is in a different category from its predecessors.
Tim Allen is a talented comedian, meaning his character contains a certain amount of humour. Chris Evans is an action star that needs a robot cat to add in the funnier aspects, which makes this into an animated action film. There seems to be a noticeable shift for Pixar as they are trying to determine their identity outside of Disney+. This has all the earmarks of a cultural shift for the studio as they determine who they are making films for in this new era.
They think their audiences want to hear less heart-felt messaging and more moralising subject matter. Will it appeal? Only time will tell as we head to infinity and beyond.
Reel Dialogue: What is the Value of Community?
@Two are better than one, because they have a good reward for their toil. For if they fall, one will lift up his fellow. But woe to him who is alone when he falls and has not another to lift him up! Again, if two lie together, they keep warm, but how can one keep warm alone? And though a man might prevail against one who is alone, two will withstand him—a threefold cord is not quickly broken.@ – Ecclesiastes 4:9-12
The Toy Story franchise and Lightyear are built on the value of the larger community. There is a central character to cheer on, but the only way he survives is through the care and support of the community around him. Throughout the Bible, key figures have been championed in our culture. Still, they can only achieve their goals by relying on the community around them. Moses, David, Gideon and even Jesus are great in their own way, but see the value and need of the community around them to do their work.
'No man is an island' is a proverb that should be lived out and is supported in the Word of God.
---
Article supplied with thanks to CMAA & City Bible Forum.
About the author: Russ Matthews is a film critic at City Bible Forum and Reel Dialogue. He has a passion for film and sparking spiritual conversations.